"After over five years of intermittent relapses and struggling to re-invent myself, I can safely say that I feel at ease in my own company for the first time in my life. I trust that I will do the right thing by myself and my family".
"…all levels of government need to stop focusing on the policing of drug use and distribution, and invest more in recovery services.
That would slash health care, child care and criminal justice system costs racked up by addicts, while drastically cutting crime rates and creating more valuable contributors to society, the Life in Recovery report says.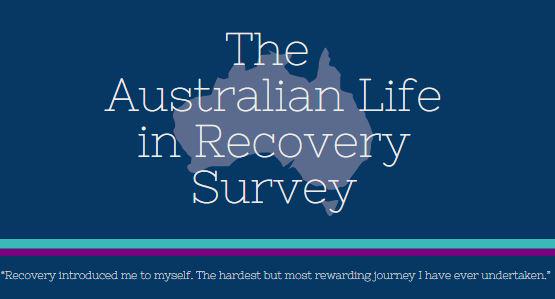 The survey, by the South Pacific Private and Turning Point treatment centres, suggests addicts in recovery are 75 per cent less likely to drive while under the influence, 50 per cent less likely to get arrested and 40 per cent less likely to perpetrate or be a victim of family violence.
They're also 40 per cent more likely to volunteer in a community group, and tend to make more significant contributions to the community than the average person, according to the report's author, Associate Professor David Best.
Government funding is provided for detox services but virtually no money is spent on the difficult recovery process that follows, despite relapse rates of between 50 and 70 per cent in the first year of recovery, he said.
The focus needs to switch to funding support groups and programs that help addicts get back on their feet, like finding jobs and accommodation, he said.
"None of the treatment services are sufficiently well-funded but the complete neglect of after care and recovery services is both inconsistent with the evidence and counter-productive, because it just puts people into this spiral of relapse," Prof Best said.
from
http://www.sbs.com.au/news/article/2015/05/05/govt-policy-addicts-wrong-report
reported in
http://www.southpacificprivate.com.au/Life-in-Recovery-Survey-first-of-its-kind
Infographic  of some of the Survey Findings

RECOVERY STATUS There was considerable variation in how people described their recovery:
• 79.8% described themselves as 'in recovery'
• 6.3% described themselves as 'recovered'
• 4.5% described themselves as in 'medication-assisted recovery'
• 3.7% reported that 'they used to have an AOD problem but don't any more'
• 5.7% used other ways of describing themselves
Thus, for the vast majority of participants, recovery is seen as an ongoing process.
The majority (69.8%) reported that they had accessed alcohol and other drug (AOD) treatment services meaning that 30.2% had never done so. Of those who had, 36.6% had taken medications prescribed by a health care professional to help them deal with their drug and alcohol problems.
At the time of the survey, 41 individuals (7.2% of the total sample), were currently receiving prescribed medication to deal with their drug and alcohol problems.
A higher proportion (82.0%) had attended a 12-step meeting, with 68.8% attending 12-step meetings at the time of the survey. Current 12-step group attendance involved Alcoholics Anonymous for 57.1% of the sample, Narcotics Anonymous for 24.6%, Gamblers Anonymous for 2.3% and Crystal Meth Anonymous for 1.0%.
11.3% were currently attending Al-Anon (as a loved one or family member) and 6.8% reported that they were currently attending other 12-step groups that included Sex and Love Addicts Anonymous, Overeaters Anonymous, GROW (for co-morbid alcohol and mental health problems) and Adult Children of Alcoholics. SMART Recovery was being attended by 0.5% of the survey participants.
1. FINANCES
Changes in financial situation from active addiction to recovery There were marked improvements in paying bills on time, in having your own place to live, in having a good credit rating and paying taxes from when participants were in active addiction to when they were in recovery.
WELLBEING & LIFE
2. FAMILY AND SOCIAL LIFE
…  there were marked reductions in the experience of family violence from around half of the participants during active addiction to less than 10% in recovery, that were accompanied by positive improvements in participation in family activities and planning for the future. There was also a clear improvement in children returning from care and a massive increase in participation of community and civic groups.
3. HEALTH
There are marked differences in health functioning as reported by participants with clear improvements in a range of self-care activities – improved engagement with GPs, regular dental check-ups, improved diet and nutrition and regular exercise. At the same time there is a clear reduction in health service utilisation indicated by marked reductions in the frequency of use of healthcare services and emergency department attendance and improvements in the rate of smoking. There is also a significant reduction in experiencing mental health side effects.
4. LEGAL ISSUES
Changes from active addiction to recovery in offending and criminal justice system involvement There are very striking transitions in involvement with the criminal justice system and overall offending with the most marked transition from 82.9% reporting driving under the influence while in active addiction to fewer than 5% while in recovery. Likewise, while more than half of the sample had been arrested in active addiction, this dropped to around 2% in recovery, leading to significant reductions in family disruption as well as significantly reduced costs to society. This is also reflected in the more than 90% reduction in imprisonment from active addiction to recovery, while there were considerable improvements in re-obtaining both professional registration and the right to drive once in recovery.
5. WORK AND STUDY
Missing work and being fired or suspended, which had been frequent occurrences in active addiction, were extremely uncommon in recovery, as was dropping out of school and university. In contrast, there were clear improvements in positive job appraisals, in further education and in remaining in steady employment.
THE SOCIAL NETWORKS AND SOCIAL IDENTITIES OF ACTIVE ADDICTS AND PEOPLE IN RECOVERY
Here the position is even more dramatic with the vast majority of participants reporting no contact with people in recovery while they were active addicts, but that this situation is reversed to the extent that 36% of people in recovery have a social network made up only of people in recovery.
This is reflected in 'qualitative social capital' – in other words the number of people individuals can rely on. At the peak of their addiction, 38.3% of participants reported that they had nobody they could discuss important things with compared to 2.0% who reported the same in their recovery. By contrast, while 8.6% of participants reported that they had four or more people they could discuss important things with in active addiction, this increased to 65.9% in their recovery. This is reflected in changes in social group membership – a proxy for connectedness and wellbeing.
…our participants' social identification with addiction had not diminished but their social identification with recovery had grown enormously.
PERSONAL ACCOUNTS OF RECOVERY
THE EXPERIENCE OF ADDICTION
he pain and trauma of addiction is clearly illustrated in the reports of participants. Active addiction is seen as having destroyed the person's own lives and taken many of the lives of their peers.
"Active addiction completely destroyed any semblance of normality in my life. Everything was reduced to absolutes: the need to get drugs so I could not feel sick, and the use of drugs to numb any emotional or physical pain".
"Ruined my life in all areas, physically, mentally, emotionally and spiritually"
"I am alive, none of my peers from that time are alive. Only 5 of the 33 people I was in rehab with are still alive".
THE JOURNEY TO RECOVERY
This journey is not perceived as a quick or easy journey by most of the participants. Many recognised that they have had persistent problems long into their abstinence. However, for most people it is a generally positive transition.
"After over five years of intermittent relapses and struggling to re-invent myself, I can safely say that I feel at ease in my own company for the first time in my life. I trust that I will do the right thing by myself and my family".
"Addiction was part of my journey, I don't regret it but recovery is so much more comfortable".
THE EXPERIENCE OF BEING IN RECOVERY
Building on the previous section, this was generally very positive and the following examples illustrate the perceived benefits. Many people spoke of what they had achieved since starting their recovery journey.
"I am a productive member of society today: a good partner, parent, employee, daughter, sibling and friend, and I was not any of those things before"
"I experience long periods of peace of mind. I can manage problems really well. I am less inclined to react negatively to adverse events. I have recovered from Hepatitis C. I have deep and meaningful relationships with friends and family. I feel a wide range of emotions and can (mostly) sit with them. I have experienced 15 years of being engaged with and liked by the community instead of being a pest to society and that is absolute gold".
POSITIVE ROLE OF TREATMENT OR MUTUAL AID
There were a striking number of comments supportive of 12-step groups, as illustrated by the following:
"AA saved my life because I gradually changed and got my self-respect back"
"AA saved my life; I would be dead without AA"
"I have a brand new life thanks to AA. For me, my children and my grandchildren. I am responsible at work and pay my bills"
"In nearly 30 years I have literally witnessed many hundreds of people turn their lives around from chaos and mayhem to lead similarly fruitful lives to the one I live today, overwhelmingly through the agency of their involvement in 12 step programs"
"I could not stop drinking on my own. AA has shown me a new way of living. Life is not perfect but I can now live like a 'normal' person. I have self-respect and dignity and I am a good worker and mother"
COMBINED APPROACHES Furthermore, as is consistent with the literature, a number of respondents talked about the benefits of bespoke and blended support from both mutual aid groups and professional treatment services.
"I am an active participant in the AA program – the 12 steps are my program for recovery. Putting the 12 steps in my life and putting the skills I learned at South Pacific Private into my life have given me a life that is full of understanding, patience, great relationships and love".
"Detox set me on the path to recovery and AA helped me to sustain my recovery", while a third respondent reported that "recovery through detox, rehab clinic, 12 step program with AA has completely changed my life and my attitude to life. I feel free and have choices and I am happy for the first time in years"
The overall conclusion by the majority of participants is that recovery is experienced as liberation and is an opportunity not just for a normal life but a meaningful and fulfilling one. That does not mean recovery is without regrets or without problems :
"My addiction was hell, my recovery has been amazing. I will be forever grateful for the second chance I was given. It took a long time to feel a part of the world when coming out of addiction. It was so hard to fit in with a world I felt so uncomfortable in. But now I love every day. I suffer with depression, and it has been harder than active addiction was but it is in remission and I have learned to live with it. My children are my greatest blessing and I have been able to break the cycle".